Jul 24 2014


labsrus
1 Year as Super Dog Angel Hunter
Tripawds is a user-supported community. Thank you for your support!
I've been preparing this post for quite a while.  Our 1 year anniversary without Hunter has been on my mind.  I wanted to post something special today….
One Year has passed since our beloved Hunter left us for the Rainbow Bridge.
We now call him Super Dog Angel Hunter.  His 14 month journey as a tripawd definitely earned him his "Super Dog" title and he keeps it to this day, we just added "Angel" because he now has his wings.
Not a day goes by that we don't think of him.  We appreciate the luck he sends our way.  We notice each extra shiny penny that he sends us from Heaven.  We try not to compare him to our other two labs.  They all are unique but no dog will ever be the same as our Hunter.
No dog will ever replace him.  Hunter was my husband's heart dog.
We made a special memorial garden for him at our campsite in Door County, Wisconsin.  We put some of his ashes in a small container and buried the container under a Guardian Angel statue.  A flowering red begonia blooms brightly nearby symbolizing our love.  Hunter had camped with us many times at that campground, and it was there that we first saw his limp that got us to our vet, and then to our surgeon, and then on to his tripawd journey.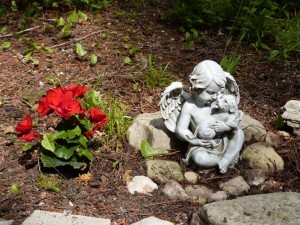 I'm sure many of you remember quite clearly your diagnosis day.  I can still see that moment in my mind.  How I felt.  What my questions were.  We were in shock and just devastated.  It was the worst day of our lives until our last day with Hunter, that became the worst.
But, with the help of the tripawd community, and through the support of family, friends, and many vets, we had some really good times with Hunter as a tripawd.
We are so grateful for all of those moments and memories.  Hunter was a great tripawd warrior.  He was strong and confident through it all!
We are truly given a gift in the love of our dogs.  They love us unconditionally and trust in us to do our very best for them.  Many of us give them the world.  To us, they are our furry children.  And I'm sure many of you, even those with children, feel this way too.  We always told Hunter that we would do everything in our power for him, and we did that and beyond.  With knowledgeable vets, and the help of pet insurance, there is so much that we can offer our furry family members.
Please hug your pets today.  And give an upward smile and nod to those pets that you have lost as well.  Know that they are watching over you as our Hunter is watching over us and your tripawds as well, here and at the Rainbow Bridge.
Love,
Super Dog Angel Hunter's Mom
Here is Hunter in his prime on a beach in Door County…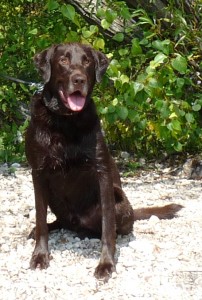 We are so comforted by having our two labs, Hailey (8 in September) and Harley (2 in December).  They keep us enjoying life!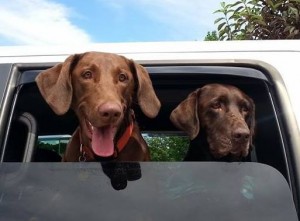 (Harley and Hailey enjoying a beautiful day in Door County)
Here is our young Harley showing his love for my husband Scott at our campsite….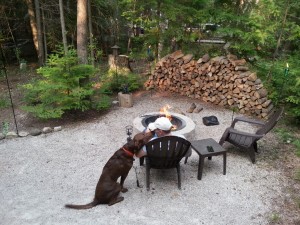 A Dog's Love is Good for the Soul!