Feb 24 2014


labsrus
Pennies from Heaven
Tripawds is a user-supported community. Thank you for your support!
I found 3 shiny new pennies in my wallet today.  It's our Hunter's way of telling me that he is still with us, loving us, and watching over us!
I found 3 shiny new pennies the week he passed as well.
Why 3 you may ask?  Well, Hunter passed 3 days short of his 10th Birthday, so I think that is why he always sends 3.
They say when an angel misses you, they toss a penny down from heaven. Sadly, not everyone knows how much truth there is in this old adage.
So, don't pass by that penny, when you're feeling blue. It may be a penny from heaven, that an Angel's tossed to you.
Here's a lovely photo of our Super Dog Angel Hunter when he was about 9 months old.  We will always remember him young and vibrant!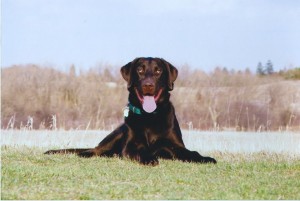 Today it has been 7 months since our sweet boy Hunter crossed over the Rainbow Bridge.
We love you big guy! Miss you! XOXO
Hugs to all!   And continue fighting the fight!
Julie