Sep 10 2013


labsrus
Super Dog came to me last night
Tripawds is a user-supported community. Thank you for your support!
Good morning everyone,
Hunter came to me in my dream last night.  It was so real. I was able to pet him and hug him.  I felt the texture of his hair. The thickness of his neck.  He was proud and tall.  It was like nothing had changed.  It was him in health.  I felt he had all of his legs and no cancer at all.  I remember saying to my hubby in the dream…"if he's back why didn't I take him to Hailey's wellness check up on Saturday? We should have him checked out."
When I told my hubby this morning about it that's when I realized that Hunter had come back to me in my dreams.
He came to show me that he's OK and happy.  That he's whole and healthy again.   I was crying just thinking about the time I spent with him in my dream.  If I had only realized it was him spending time with me I would have tried to visit so much longer.
Hailey looked at me because I was crying and I told her that Hunter came back and that he is whole and happy.  She perked up her ears at his name and wagged her tail as a smile.  What a gift.
On another special note, I had submitted 10 beautiful chocolate lab pictures to our local lab rescue for their 2014 fund raising calendar. One of my pictures was picked!  Hailey & Hunter will represent June, 2014 for LEARN; Labrador Education and Rescue Network of Southern Wisconsin and Northern Illinois.
Here's the photo: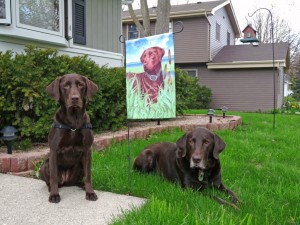 If you would like to order a calendar here's the link:
http://www.labadoption.org/how-you-can-help/2014-learn-calendars-on-sale
We are so proud that our Super Dog is continuing to help others.
Please hug your furry family members today!
Love,  Super Dog Angel Hunter's Mom