Jul 22 2013


labsrus
Unexpected vet visit for Super Dog today!
Tripawds is a user-supported community. Thank you for your support!
So Hunter vomited up a huge amount of water and treats this morning before I left for work and I thought his abdomen looked distended and bloated.  He was panting, but he's been panting due to the warm weather.  He seemed stable so I left for work but planned to come home and check on him mid-day.
I checked on him at lunch but, for the first time ever, he didn't greet me at the door.  He laid on a carpet in the kitchen, his breathing sounded raspy, and then he vomited up 2 slimy piles of phlegm and liquid with a couple spots of blood in them.  When he tried to get up his rear leg slipped on the kitchen floor and he fell down.  He seemed so weak to me.  I helped him up and he was able to hop outside to go pee.
I couldn't reach his regular vet, so I called his oncologist's office which happens to be our local 24 hr. emergency vet center and I was directed to take him in right away.
Over the phone, the vet tech and I were thinking degenerative heart failure and fluid on his lungs and abdomen.
His oncologist was in today so she was able to fill in the ER vet.
Hunter is now down to 60.5 lbs.
At the appointment the ER vet didn't hear any lung or heart problems and didn't think his abdomen looked or felt distended.  She recommended taking new xrays.  (his last xrays were taken on June 5th)
They took the xrays and could see that his lung tumors are growing rapidly.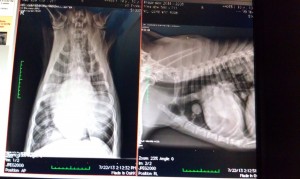 He has multiple large tumors and several smaller tumors.  His lung capacity is diminishing.
I asked her what she thought was going to be Hunter's physical downfall and she thought it wasn't going to be a heart problem.  (Well we all know how wonderful Hunter's BIG heart is!!)  She thought it would most likely be a lung problem.  Like  air escaping his lungs and not allowing him to breathe properly, or  a tumor affecting a blood vessel that causes him to bleed.
Sadly, she thinks he only has a few weeks left.  But she said that all things considered, he's been with us a long time.
However, as you all know, it will never be enough time.
I took him back home and he's doing ok now.  We are hoping he wants to make it to his 10th Birthday, which is this Saturday. We are going to feed him more to try and keep some weight on him, give him lots of Love and Treats, and continue to take him for short walks on the non-humid days and evenings.  We love just having him around and he can stay with us for as long as he wants too.
Come on Super Dog!  You can do it!