Jun 30 2013


labsrus
Super Dog is still fighting cancer!
Tripawds is a user-supported community. Thank you for your support!
After a scary set back this past Monday, I'm happy to report that Hunter is still with us and enjoying the labby life.
On Monday morning he coughed up a lot of blood from his lung tumors and had us worried that he was ready to leave us.  He has since rallied, with the help of our holistic vet, and he wants to LIVE!   We received a ton of support from everyone on the Tripawd forums during that difficult time and it is so appreciated.   I should report that he is down to 62 lbs. though.
What would we ever do without your support!?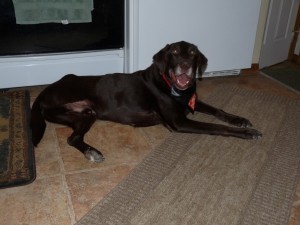 So, we are SO happy to say ….
Today is Hunter's 13 month ampuversary!  And boy did we celebrate in a BIG way!
Our family BBQ and town 4th of July Parade was today.  Hunter loves this day.  He gets to watch the parade, mingle with the family, greet the parade goers, and enjoy all of the smells and tastes of summer.  The parade goes right by our house and we haven't missed it in 10 years!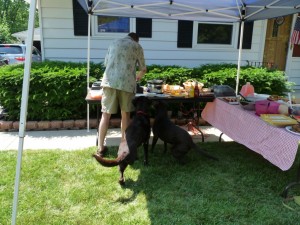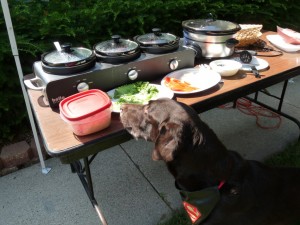 Chips anyone?!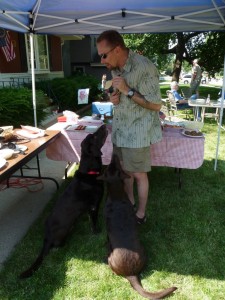 This party is for ME ~ ! ….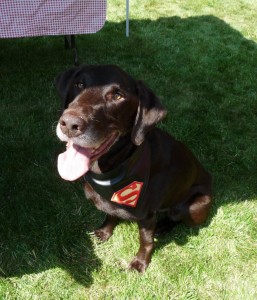 Here he is with one of his favorite nieces….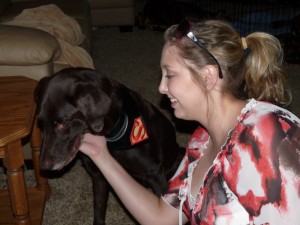 Hunter got his own burger of course!
Cooking the burgers….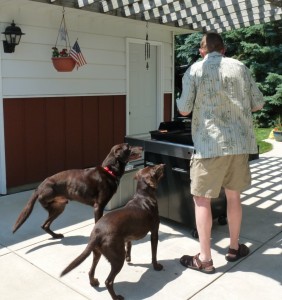 Still too hot ….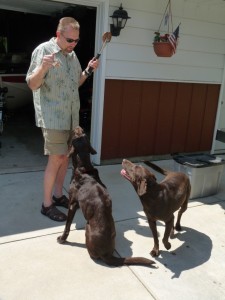 Ok, here you go! ….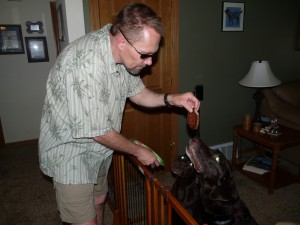 YUMMY!
What is Hunter's new cancer fighting partner you ask??  It's called PREDNISONE!
And it's giving us more time with our favorite pooch!
40 mg. a day and WOO HOO!  He's fighting cancer and feeling great!
[ I'm sure a Lot of Love and his desire to please us is high on the list too! ]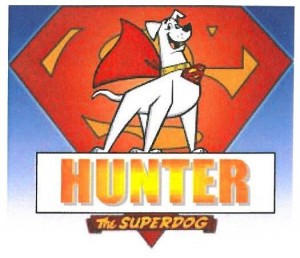 Hunter is faster than a speeding bullet,
more powerful than a locomotive,
and able to pee on tall fire hydrants in a single bound (HOP)!
Enjoy each and every moment you have with your tripawds and monkeybutts!
And thank you for all of your support, prayers and kind words.  We couldn't take this journey without you all.