Jun 05 2013


labsrus
Continued update on Hunter….
Tripawds is a user-supported community. Thank you for your support!
Hi everyone,
I spoke with Hunter's oncologist last night and she felt that his critical symptoms called for a vet visit ASAP!
He has a rapid heart rate, is coughing more often, acts very arthritic, and has thickening of his joints.  I also felt a fluttering in his chest on Sunday morning.
I was able to get into his holistic vet's office for their first tech appointment this morning.  He had (the dreaded!) chest xrays taken and a blood test for his heart.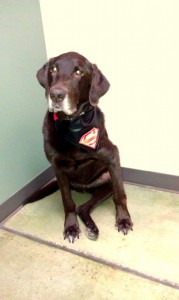 Hunter at the vet's office.
It has been exactly 6 months since his last chest xrays.  Back then, on December 5th, they confirmed one small lung tumor, with a second one possible.  I would tell everyone that the tumor was about the size of a M&M peanut candy.
Unfortunately those lung mets grew!  I was actually shocked to see how much they grew.   Looking at the top view of one of the xrays, his largest lung tumor now looks to be about two-thirds the size of his heart.  It's no wonder Hunter is feeling so poorly!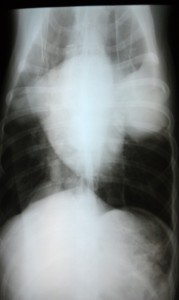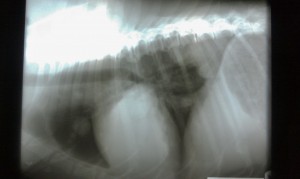 In the 1st photo – the large spot to the right of his heart is the lung tumor
In the 2nd photo – the spots to the left of his heart are lung tumors
In addition to this large lung tumor, the doctor also noted several "coin sized" tumors present throughout his chest cavity along with what looks like fluid on his heart.  She put him on 10 mg. of prednisone – 2 pills 2Xday for 5 days and then 2 pills 1Xday indefinitely.
We'll know if he needs another medication, possibly a diuretic, after the blood test for his heart comes back in 3-4 days.
For now, we are just hoping to keep Hunter happy and comfortable.  His doctor said that with using the prednisone we should "have about a month" with Hunter gaining his energy back and losing the cough.  After that, his health will probably decline again, and we'll cross that bridge when we get to it.   She will be there for us when that day comes.
We will try to listen to all of you and live each day as it comes, just like Hunter does.  We will be thankful for each and every moment with him.  Thank you all for your advice and your especially kind words.  This Tripawd community has been so good for us, and in turn, I hope Hunter's journey has helped others during their own difficult journey.
Hug your furrbabies everyone!