Jun 04 2013


labsrus
Update on Hunter
Tripawds is a user-supported community. Thank you for your support!
Super Dog needs to find his Super Strength one more time.  We could use your prayers and well wishes right now.
I know we just had a very postitive and celebritory post about his 1 year ampuversary, but apparently health changes can happen really fast.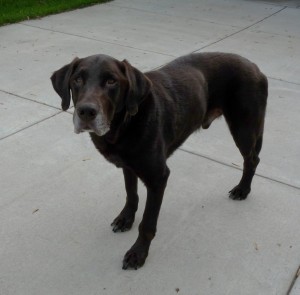 His lung mets are causing him problems, zapping his strength, and causing him to cough more frequently.  He has coughed up blood 3 times in the past 3 weeks.  His heart rate is rapid and his breathing seems more shallow.  He is down to 68 pounds from 70 pounds and he looks really thin and hunched up.
We saw his holistic vet this past Saturday.  She put Hunter on 3 different types of herbs for his lungs and 2 essential oils to diffuse and gave us cough suppressant pills.  She took him off of the antibiotics.  Said that if he is still coughing up blood it's not working, plus it is causing him to feel run down.
I told her how we needed more time with Hunter, like at least 5 more months.  Not only do we love him and want him in our lives, we need him home for Hailey when the pup goes away for training.  She said that seems long.  She said it would be a miracle if he stayed with us all year.  With him coughing up blood, that's definitely the start of his decline.  Sunday he just laid around and he was shivering a bit early that morning. We feel so bad for him.
The vet said it's all about quality of life now.  Hubby took him for a walk Sunday night just to get him moving and he didn't want to stop or turn around so I had to go and get him with the car.  I was afraid a really long walk would be too much for him.
He needs help to get up on the couch now and even has trouble with our 6″ entry steps if his balance is in jeopardy.  And it sure doesn't help when the puppy rushes by him!
It was a very sad day at our house on Sunday.
Yesterday Hunter just about ran outside to the backyard to pee.  But I gave him his cough medicine that morning and by the time I left for work he was coughing again.  He's been a little brighter since Sunday, but his balance and stability still aren't great and his joints look larger to us.  Maybe that's just because he is thinner.
Here's a photo of him last night…. he just went outside and laid in the grass and didn't want to move or come in.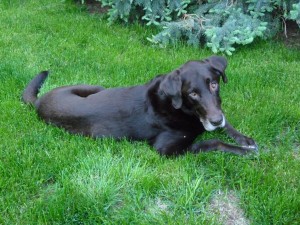 We're thinking that going on prednisone may be his next step.  I am calling his oncologist today.  So please keep Hunter in your prayers.  We are hoping that Super Dog will rally once again but we are trying to be realistic about the truth of the situation.