May 30 2013


labsrus
Super Dog's 1 Year Ampuversary!
Tripawds is a user-supported community. Thank you for your support!
TODAY MARKS HUNTER'S ONE YEAR AMPUVERSARY!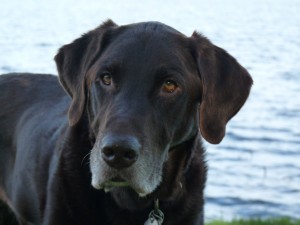 Yeah! Congratulations! Outstanding! Well Done!
Way to Go!  You're the Best!
Everyone knows him as "Super Dog" and he sure is Super Special to Us!  Its' been an amazing year full of major ups and downs and strength building exercises.  We've met some outstanding people in all places…. from his surgeon, oncologoist, veterinarians and wonderful staff, dog food store personnel, his trained water therapist and all of the amazing tripawds out there.  We never doubted that Hunter could succeed as a tripawd and maybe that's how he became Super Dog.  We never underestimated the love and the strength of our dog.
Hunter got to spend this Memorial Day Holiday with us in the north woods of Wisconsin in a cabin on the lake.
This is his favorite kind of trip.  Boating, fishing, swimming, grilling, long leisurely walks, napping, lots of trees to sniff and pee on, and of course lots of family time.  No rushing off to work and leaving him on the couch all day.  Although, this trip he sure loved his couch time!
Here's a few pictures of him enjoying his vacation:
We have hope that Hunter will be celebrating his 10th Birthday on July 27th and that he will be home for Hailey, our needy monkeybutt, when it's time for Harley to leave for hunt training this summer for 3 months.
Another year with Hunter would be a true blessing!
Hunter has been a joy to us since the day we brought him home and we will continue to do right by him until he tells us that it's his time to go.  (** sniff, sniff **)  None of us want that day to come, I'm sure of that.  These dogs become a part of our lives, and when the going gets tough, our entire lives.  They become a part of us and will forever live on in our hearts and minds.  [not to mention our computer passwords!]
I do have to report that Hunter looks a little on the thin side lately and seems to be moving a little slower these days.  We are seeing his holistic vet this Saturday for a general check up.  His oncologist has him on antibiotics just in case his infrequent coughing is due to an infection.  He is still on all of his natural meds and his raw diet and he's more than happy to eat at dinner time.
Please give your dogs and cats an extra hug, treat, and ear scratch from Hunter's family today.  Appreciate every moment you have with them, their silly antics and looks, their smells, their  smiles, and their sounds.
And thank you all for being our strong support system over this past year.  You've been amazing!!
Here's to more time with our Super Dog.