May 14 2013


labsrus
Another update on Hunter….
Tripawds is a user-supported community. Thank you for your support!
Hi everyone,
Well Hunter saw a doggy ophthalmologist for the first time this past Saturday for his red eyes.
Here he is waiting for his eyes to dilate: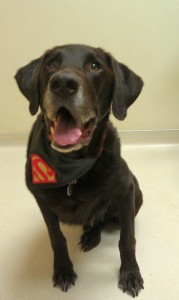 Upon examination Hunter has very mild evidence of uveitis in both eyes and a small focal lesion in his right eye.  The cause for the uveitis is most likely a systemic disease… either fungal, bacterial, cancer, immune related, metabolic, etc. Possibilities for the lesion include an atypical focal scar, however it could be a metastatic lesion from his osteosarcoma.  Continued monitoring will watch for any growth of this lesion.  His oncologist will be notified.
The doctor found that Hunter has dry eye disease.  This is a condition in which the glands that produce a component of the tear film do not function appropriately resulting in inadequate aqueous tear production.  Treatment will be lifelong topical medications.
I like that word… LIFELONG!
He was started on a topical anti-inflammatory and antibiotics (drops).
Here is the vet and his technician taking photos of Hunter's right eye:
He was such a good patient as always.  His first time up on an exam table too!  However, this was his least favorite vet visit to date.   He was breathing hard and just couldn't get comfortable.
Here's a photo of his right eye with the lesion (it is small in size):
(the white dot is pointing to it)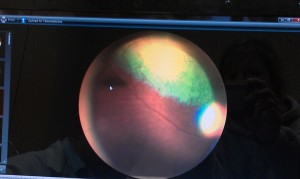 After the visit Hunter got lots of treats from the office staff and from a cute little girl named Briar: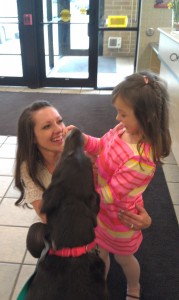 After the first day of drops the whites of Hunter's eyes looked less red, but today they don't look as improved.
I really hope this does the trick for him and we will have one less health issue to worry about.
Love your Tripawds and Monkeybutts everyone!
Hunter's Mom