May 05 2013


labsrus
Update on Hunter, aka "Super Dog"
Tripawds is a user-supported community. Thank you for your support!
Hi everyone,
Hunter celebrated his 11 month Ampuversary on Tuesday, April 30th!
We Love him and are Very Proud of him!
Here's a photo of the three Amigos on his special day: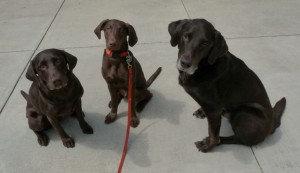 We FINALLY got some warm days in Wisconsin and we walked all of the dogs and enjoyed 2 really nice evenings this past week.   The 3rd evening was cooler and we walked again, but Hunter didn't really seem himself and he tired quickly.  We attributed it to him being exhausted after 2 days of walking in the heat.  (Hunter has always preferred cooler weather as heat really zaps him)  That day he also made a one-time hacking sound and we dismissed it.  (treat dust, irritation?)  The next day was cold and rainy, so we didn't walk him and he made the hacking sound again.
On Friday, since he hadn't had any blood work done since January, I took him into his oncologist.  Well he made the hacking sound again and splattered their exam room wall with a frothy mucous that had pink spots in it.  It was blood.  Our oncologist believes this is the first sign that his lung mets are causing him trouble.  We never noticed any mucous produced from his hacking before.  She said that if his hacking continues on a more regular basis he can have a cough suppressant and then some prednisone.
3 days, 3 hacks, 1 productive and gross result.  Now I'm worried.  I could handle him having red eyes, since our holistic vet believed it was diet related, and we handled him getting very sick from the chemo drug Palladia, but this seems so much more real since it is definitely caused by the cancer.  I hate even typing that "C" word, let alone speaking it!
Damn Caner!!
Our oncologist is also concerned about Hunter's eyes.  They are still red and look sunken to her.  We have now successfully switched him to a turkey raw diet from his chicken raw diet but I really don't see too much difference in his red eye color.  She would like him to see our doggy ophthalmologist.  He rubbed his eyes at the clinic and hubby says he did notice him rubbing his eyes at home as well.  So it may only be partially diet related.  I'm hoping it is something simple that will clear up with a medication.  Our holistic vet will try to give us something all natural for him after we get a diagnosis.
On the bright side…… Hunter's blood work came back and it is all within normal limits!  An improvement from January.  That sure gives us a "warm fuzzy" that his health is still pretty good.  We had a CBC and a Chem Panel done.
He weighed in at 71 lbs., which is a little less than his previous weight in March, but still up a lot from when he was sick in January.  He still looks fit and trim.  The 2 small lumps on his sternum have grown a little, but they were there well before this all started and were tested as just fatty tumors, so we're not concerned there.
Hunter continues to have a great appetite and his energy level is very good most days.  Yesterday he was really stiff and sore so we gave him a natural pain remedy (Boswellia) and he got the day off to just rest.  We believe he has some arthritis.  Hunter will be 10 this July 27th.
Today he is much more like his normal self and enjoyed some time in the sun on the driveway.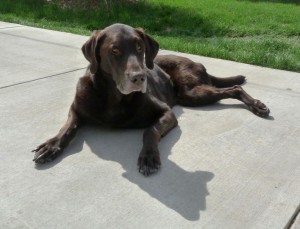 He continues to be a very happy lab and will thump his tail at the mere mention of his name, or if it you just look at him and say Awwwww (with Love)!
Please keep our Hunter in your thoughts and prayers.  We really want him to stay in our lives for as long as possible.
Thank you, Hunter's Mom
P.S. ~ Enjoy each moment you have with your tripawds and monkeybutts!