Mar 30 2013


labsrus
10 Month Ampuversary today~!
Tripawds is a user-supported community. Thank you for your support!
Hello everyone!
Hunter is proud to announce his 10 month Ampuversary today!
He would like to let you all know that he is doing well and enjoying the labby life…. Lots of quality food & treats, ear scratching, short walks in the cold and couch time!  Ok, we'll even admit to supplying him with a few french fries every now and then too.
Hunter has far surpassed his oncologist's statistics, that's for sure!
When they found one, maybe two lumps on his lungs on December 5th his oncologist said that most dogs usually show signs of health issues relating to the lung mets within a few months.  Well it's been almost 4 months and Hunter is going strong!  KNOCK ON WOOD EVERYONE! Even his weight is great… he weighed in at 73 lbs.  just this past Thursday.  He was at 75 lbs. before the amputation surgery and looked great then…. he's looking great now and he's not fat, he's solid!
(By the way, December 5th was an emotional roller coaster day for us as it is also Harley's birthday.)
Our new pup hasn't bothered him too much and Hunter was expecting the occasional ear nips.  And it actually seems that Harley, the pup, has added to Hunter's enjoyment of life.  Hunter just loves all dogs and people.
This will be the second pup that Hunter has raised for us and he's doing his usual great job!
I should also report that we got over a worry about Hunter's kidneys in early March.  He was drinking a lot of water and even eating snow since getting off of the Palladia.  After 3 urinalysis tests it was determined that his kidneys were ok and that he just likes to drink a lot of water.  I'm sure many of you have spent good money at vet clinics just to get an end result of what you already knew about your dog; we just need to go through the tesing for our peace of mind.
Hunter is continuing his raw diet and supplements and has a great appetite.  His energy level is great most days.  He has a few stiff and sore days every now and then, but we all have those.  We know he's not as conditioned as he usually is due to our lack of walks this winter.  But, when you get him moving you would never guess that anything is bothering him.  And all of the tripawds out there know that it's not so much fun navigating those huge snow piles or dealing with those sneaky ice patches.  On sunny days he loves to lay on the driveway and just take it all in.
We have very high hopes that Hunter will continue to thrive.  He's been told that he needs to stick around for our Monkeybutt Hailey so that we can send little Harley off to our trainer for pheasant hunt training this summer.  Hailey can't be without a buddy and Hunter is her Bestie!  She finally warmed up to our new little guy, and actually instigates playtime, which is a good sign of harmony for us. They spend a lot of time wrestling and mouthing each other, it's fun to watch.
So now that we are ready for the future, Murphy's Law says we'll have three labs for a long time!  And we would be thrilled if that is how life plays out for our family.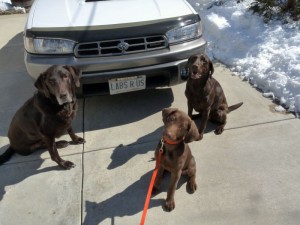 So here's a shout out for Health and Happiness to all of our fellow Tripawds and their Monkeybutts!