Feb 03 2013


labsrus
Update on Hunter, aka "Super Dog"
Tripawds is a user-supported community. Thank you for your support!
Hi everyone,
I am very happy to report that Hunter is doing so much better these days!
Eating, sleeping, and on nice days ~ walking at the park.  It's been bitter cold here in Wisconsin lately.
He celebrated his 8 month Ampuversary (YEAH!!) with a new pup… Harley.
Harley came home on January 26th and Hunter just loves him.  It has really perked him up.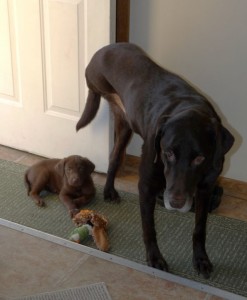 Funny thing is… we really got Harley for Hailey, but she is still warming up to the new addition!
She's such a Prima Dona Monkey Butt!
Hunter has been eating well and has all of his supplements back into his raw diet.  We just need to get him back on Artemisinin and Butyrex next week.
Last Monday we pulled him from the oncology trial.  His quality of life is very important to us and the Palladia was wrecking his GI system.  We might try another round of IV chemo in the future, as he has always tolerated that well.   We're not sure when we'll take updated chest xrays,  but we'll get him in for a urinalysis this coming week as he's been drinking quite a bit.  Not out of the woods just yet, but things are looking up for our boy.
Wishing happy days to everyone and give your pups a hug from us!