Jan 24 2013


labsrus
We found Super Dog's Kryptonite!
Tripawds is a user-supported community. Thank you for your support!
Hunter had his second dose of Lomustine chemotherapy on January 7th at U.W. Madison, his dose of Palladia chemotherapy later that night, and a recheck CBC locally on January 14th.  His white blood cell count was down again so he was put back on the same antibiotic; Baytril.
By that Friday night he had no interest in his food; which is VERY odd for a lab to say the least!  And a few days prior to that he had become quite picky and was sniffing through his food bowl… picking out the meds and throwing them onto the floor.
Saturday we switched from his raw diet to cooked burger and rice and thought we had him eating again.  So Saturday night he had his scheduled dose of Palladia.  Our regular vet suggested Pepcid for his upset stomach which we gave him twice during the day; she thought the antibiotic was causing his loss of appetite.   Our vet also had us reduce the amount of the antibiotic, so Hunter only got half of a dose on Saturday.  But during the night he must have gotten sick and at 5:00 am on Sunday morning we found a lot of vomit.
He had thrown up his entire dinner and was feeling pretty terrible, and he only wanted to drink, drink, drink.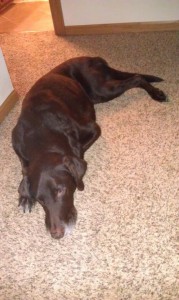 All day Sunday we restricted him to water only and were told by the U.W. Madison vet to use the Cerenia we had on hand for the nausea.  We tried that in the evening and by Monday morning he started having diarrhea.
For food on Monday we switched to feeding him boiled chicken breast and rice, but he only had minimal interest in that, eating just a little bit.  And he was turning up his nose at most things that he usually loved to eat.
By Tuesday morning Hunter started to look thin and we were really getting worried as his appetite was still really poor.  A 70 lb. lab can't live on a few ounces of chicken breast a day!
We got him in to see his local oncologist Tuesday afternoon.  Before we went in, the U.W. Madison vet and our local oncologist had a phone consult about Hunter.   At the clinic his weight was down to 66 lbs. from 70 lbs. just 8 days prior!
Our oncologist did a CBC and a Renal panel, gave him subcutaneous fluids in the scruff of his neck for possible dehydration, sent us home with Metronidizole for his diarrhea and told us to use the Cerenia every day.
His blood work came back within normal limits, which was a relief!
So what is Super Dog's Kryptonite you ask?! 
The veterinarians determined that Palladia was causing all of Hunter's side effects!  So they put him on a 1 week "Medication Holiday".  [We were told that they may reduce the dose when it is resumed – his current dose is 90 mg. every other day.]
Palladia… the "magic pill" as we had called it, the one medication that we had so desperately wanted Hunter to have… the metronomic chemotherapy that we couldn't afford without putting him into the oncology trial!  That was very surprising to us as we had assumed the antibiotic was the culprit, but really had no concrete idea why Hunter had gotten so sick.
We had never seen our dog this ill before.  Even 6 rounds of IV chemo couldn't take out our Super Dog!
By Wednesday his appetite had increased a little, and we had added chicken broth to the cut-up boiled chicken and rice.  This morning I am very happy to report that Hunter ate TWO chicken breasts and would have eaten more!  He is a lot more alert and was excited when I asked if he would like to go for a walk tonight.
So…. I think we are on the right track to getting Hunter feeling better.  We would like to get him back onto his raw diet and all of his supplements.  We can only hope that he has not become spoiled and will demand only warm boiled chicken breasts for his meals from now on!
It is amazing how fast a dog can go from feeling great, eating, exercising and being naughty…. to feeling down and out, having no energy or appetite and losing weight.  We have been diligent about watching Hunter for any signs of illness and think we got him the treatment he needed in time.
We are not sure if we will continue with the oncology trial.
Right now, we just want our Super Dog back!