Jan 07 2013


labsrus
2nd Visit to U.W. Madison for Hunter
Tripawds is a user-supported community. Thank you for your support!
Hi everyone,
Well today is Hunter's 2nd visit to U.W.  Madison for his participation in their oncology trial.  He'll have his 2nd dose of double chemotherapy, a CBC, a Chemistry panel and a Urinalysis.  We'll be sent home with more Palladia in pill form (to continue with his chemo at home) along with more Denosyl to protect his liver.  He has been able to continue his raw diet and all of his supplements to fight this thing!
Hunter celebrated his 7 month ampuversary on December 30th!
He is really doing quite well, hasn't shown any symptoms and his weight is holding steady at 70 lbs.  Hunter has a GREAT appetite (don't all labs!?)  and has been navigating the icy patches very well…. darn Wisconsin winters!
We put out some rugs for him on our front porch and driveway so he can feel confident coming and going during his potty runs.  I was really worried about our first winter with a Tripawd, but Hunter figured it out and doesn't slip often.  We've been able take walks around the block and he's had a few trips to the park.
This year, he had the best Christmas ever!  A good friend of ours loaded him up with tons of doggy presents to unwrap, which he loves to do!  And he even received his very own personal Barney.  We felt he earned his own and it has made him feel quite special since his monkey butt sister Hailey didn't get one.
We also had just the Best New Year's Eve!  Hunter wore a headband and brought in the New Year with all of us at midnight!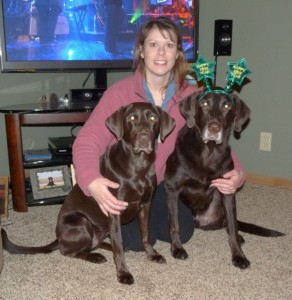 We feel that 2013 has to be a better year than 2012 was for us, and we are relishing each and every day with our Super Dog!  He makes us smile every time we see him and in return he goes through our legs for a butt scratch!
Happy New Year from our family to yours….  May we all be blessed with health and happiness.