Dec 14 2012


labsrus
Day one of new treatment for Hunter
Tripawds is a user-supported community. Thank you for your support!
The day after we received the news that Hunter had a small mass on his right lung we got a call from an intern at the U.W. Madison Veterinary Medical Teaching Hospital.  I had placed an email to them inquiring about getting Palladia for Hunter and the doctor was calling me to get Hunter into one of their oncology trials!   I was so happy I could have cried.
The trial pays for all of the chemotherapy medication including a liver protectant, and we will pay for all of the tests and exams (blood work, urinalysis, xrays…).
They have had great success with Palladia, so we picked the trial using that drug in combination with Lomustine and Denosyl.
We drove to Madison on Tuesday, December 11th and saw Dr. Kathleen Tsimbas.
( The teaching hospital is about a 1 hour and 15 minute drive for us. )
Both of these chemotherapy drugs are in pill form and we are giving Hunter his 1st treatment at home today.
Hunter goes in for a CBC and a physical in 7 days at our local vet, and another treatment and more tests every three weeks in Madison.  The trial is for 4 treatments and a total of 84 days.
He was in his usual tail wagging form at this new clinic and everyone just loved him!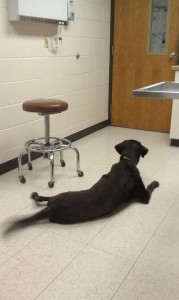 I would like to send a BIG Thank You to everyone for all of your support and prayers for Hunter.  We believe that getting him into this oncology trial is our Christmas Miracle!  We are praying that this is successful for our special boy; our Super Dog!