Dec 06 2012


labsrus
Check up with some bad news
Tripawds is a user-supported community. Thank you for your support!
Hi Everyone,
It's been a long time since I've had to write any bad news on Hunter's blog.
Yesterday we had his check up.  It has been 3 months since his last chemo treatment now.
He had a CBC, a Chemistry panel, and 5 chest xrays taken.
The positive:
Hunter's blood work looked fantastic! And he is really the picture of health; even weighed in at 72 lbs. (up a pound since his last visit)  We've got a very happy lab with bright eyes and a bushy tail.  He is even glad to be at the clinic each and every time and wags his tail waiting at the door for Whitney (his oncology nurse) to come and get him!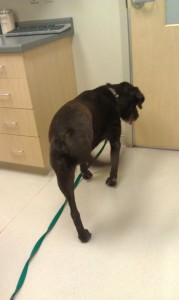 The negative:
His chest xrays showed a small mass on his right lung…. and I was alone at this appointment!
We just thought we were going to get the "all clear" so hubby didn't come along.  Even our oncologist didn't think we'd see anything at this appointment.  A real surprise for all of us for sure.  Statistics showed that the average dog was to have 1 year without anything showing up, and 25 % of dogs would have 2 years.  Hunter was above average in all aspects of this journey so far, so we truly believed we had more time.
So, since Hunter is a lumpy dog, I did what I was sure my hubby would want me to do… rule out his lumps.  So his external lumps (2 on his right side, and 2 on his sternum) were shaved and painted with barium and off to the xray machine he went again.
Unfortunately, none of the lumps were what they were seeing on his lung.  I think the mass looks like the size of a M&M peanut candy….(the cursor is pointing to it)
So we are going to fight for Hunter again!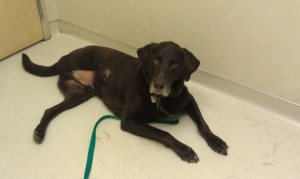 Please keep him in your prayers and keep everything crossed that this small mass is not going to cause him any problems ~ anytime soon!