Oct 13 2012


labsrus
1st Pheasant Hunt of the Season!
Tripawds is a user-supported community. Thank you for your support!
Hi everyone,
Just wanted to share the exciting day we had with Hunter, aka Super Dog, yesterday!
It was Hunter's 1st pheasant hunt of the season and about 2 weeks shy of his 5 month ampuversary.
We had a beautiful and sunny 50 degree day.
He was excited the entire morning, seeing the truck get loaded and the guns pulled out.  Hunting vests, collars & whistles, and dog water bottles lined up on the kitchen floor.   He knew it was a hunting day and just knew he was going too!  We kept telling him the past week that he was going to "get some birdies!"…
As soon as we pulled into the driveway at the hunt club he started shaking.  His expression was like "I knew you'd hunt me this season…. I just knew you would!"…
We checked in, made sure we picked a field that had somewhat easier cover and terrain, and drove down to our spot for the morning.  When Hunter got out of the truck he waited patiently for his e-collar and his ID collar with the bell on it to be put on.  He waited for all of us to get dressed up in our orange vests and hats, load our pockets with water bottles, and for the guys to hoist the guns onto their shoulders.  Then off we went to hunt that first field.
Hunter hunted strong for the first 30 minutes and retrieved many birds!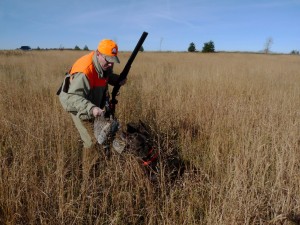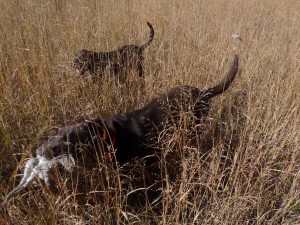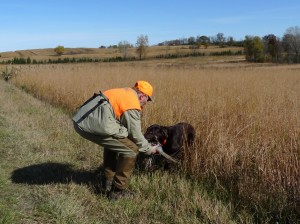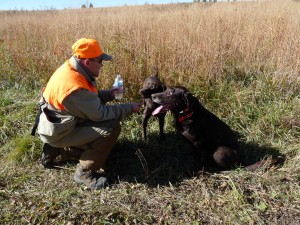 We made sure to give him plenty of water the entire morning, but he looked a bit tired after that so I stayed with him while the guys hunted another field with our younger lab Hailey.
Hunter didn't like to be left behind one bit!  He yelped and complained and tried to drag me into the field with him the entire time.  After about 10-15 minutes the guys were back and off Hunter went again.  He wanted all of the hunting he could get.
After another 30 minutes his hind end was dragging a bit and his tongue was all of the way out (the tongue thing is so him!) so we decided to pull him from the hunt.  I went back to the truck with him and waited until the guys finished up the fields.  But everytime a shot rang out Hunter would whine and complain ~ letting me know that he felt those were HIS retrieves!
He had a really successful first pheasant hunt and truly enjoyed his time out in the field.  Next time we'll know his physical limits and either give him a longer break or just pull him from the hunt after 30 or 40 minutes.  It's what he lives to do and we were so happy and proud to give him the chance to hunt again.  The friend we took with us on the hunt today said "you'd never know Hunter has only 3 legs", and he commented that Hunter was the best hunting dog he's ever had the priveledge to hunt with!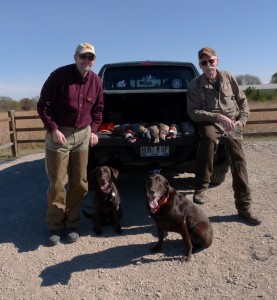 Here's our Hunter, so proud of his work in the field: