Sep 28 2012


labsrus
6th Chemo treatment completed successfully!
Tripawds is a user-supported community. Thank you for your support!
Hi everyone!
Hunter would like to let you all know that yesterday he successfully completed his 6th and final chemotherapy treatment!  He even brought in Thank You notes, pictures and cookies for his doctors and staff.
This is Hunter waiting for his nurse to come and get him…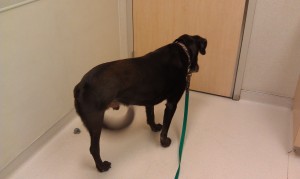 Notice his tail wagging excessively!!
He was just a bit tired last night, but that may have just been from all of the excitement, praise, treats, and loving care he receives at the clinic each time he goes in.
We are very proud of him as this is a HUGE milestone in his journey towards beating Osteosarcoma!
As we were leaving the clinic, Whitney (his oncology nurse) gave Hunter his very own blanket!  It was from a family who lost their dog to cancer some time ago and who makes blankets to give to other cancer patients.  It's a "Kozmo Kares" blanket!
Because Hunter loves being on our boat so much, he was given a pirate themed blanket.
Here are some pictures of Hunter yesterday…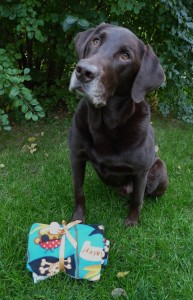 What!  A new blankie just for me!?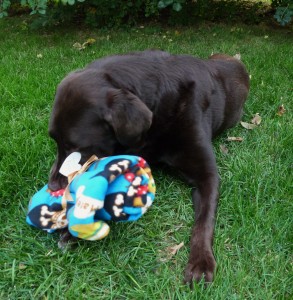 I'll just start chewing on it if you don't mind!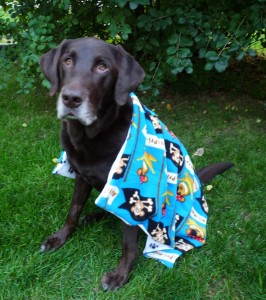 Oh, you mind?  Well, then how do I look?
Hunter has been taking longer walks these days and has been to the park a few times.  Tromping up and down hills and through tall grass off leash has been his thing lately!  We even have two pheasant hunts scheduled for him in October as we are sure he doesn't want to miss the season!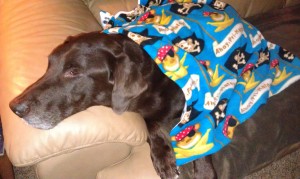 Hunter sleeping on the couch with his new blankie.
At this time we are not sure what additional steps we are taking in his fight to beat cancer, but we are definitely continuing with his supplements and his raw diet with veggies.  Plus of course our POSITIVE attitude!  We want Hunter in our lives for many, many more years.
We'll keep you posted.
P.S. … Hunter's 4 month Ampuversary is coming up this Sunday, Sept. 30th!  What a Super Dog!!