Sep 07 2012


labsrus
5th Round of Chemotherapy and some GREAT news!
Tripawds is a user-supported community. Thank you for your support!
Hello everyone,
Hunter had his 5th round of chemo yesterday with chest xrays and blood work (his labs look great!).
To quote our oncologist…
"Based on our physical exam and chest x-rays, Hunter does not have evidence of cancer."
To quote the radiologist…
"There is no evidence of nodular metastatic disease, the possible nodule previously described was not seen."
WOOO HOOO!   We're doing the happy dance here in southeastern Wisconsin!
Only one issue to mention…"The chest x-rays identified an enlargement of the pulmonary vessels as they exit the heart" ….however, since Hunter has no clinical signs of pulmonary hypertension, and his breed typically doesn't present problems, we have been told not to worry about it.  Our oncologist says its a minor issue and doesn't think Hunter is at risk.   They will look at the area again the next time they take Hunter's chest xrays.
*********************************************************************
We got back from a wonderfully relaxing family vacation in Lac du Flambeau, WI this Wednesday.
Hunter got walks, spent time fishing on our boat, and got to swim and plotch in a beautiful lake for 4 days.
I think it did him a world of good, and except for a little diarrhea due to the local water, he felt great (we switched to bottled water for our dogs and their symptoms cleared up).
Here are a couple of photos from our trip…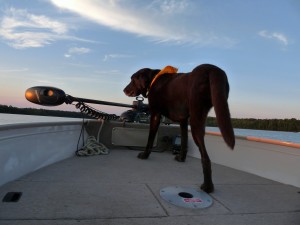 Captain Hunter is back!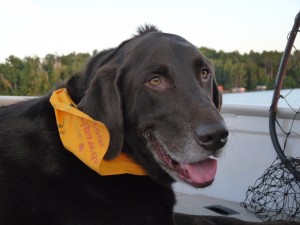 One HAPPY lab!!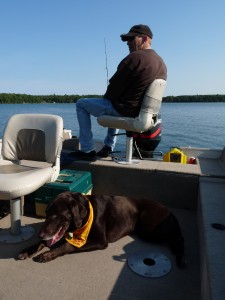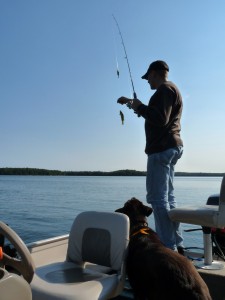 Fishing with "Dad" !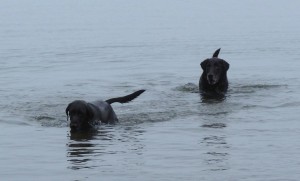 One foggy morning!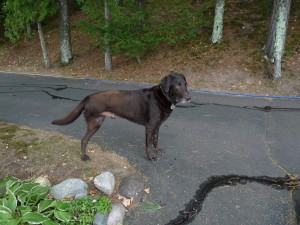 Lookin' good Hunt!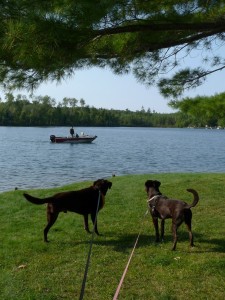 Yes… that's "Dad" out there on the boat!
We are staying positive and believe we will have many more wonderful memories with our "Super Dog"!
Each day with him is a gift and we give him lots of love, praise and of course…. treats!