Aug 30 2012


labsrus
3 Month Ampuversary today!
Tripawds is a user-supported community. Thank you for your support!
Today is Hunter's 3 Month Ampuversary!
He is doing so well.  He is happy to see us when we get home, happy to take a walk with us each night, happy for his dinner and his frozen treat bones.  His tail thumps the floor when you just look at him.
I think he knows we are doing our very best to give him a long and happy life.  We are staying very positive and giving him lots of love and kisses and encouragement.
Here's a photo of Hunter and "Dad" on the day we got to take him home.  He was just 8 weeks old then.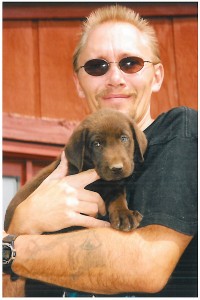 Now Hunter is 9 years, 1 month and 3 days old.  I told our vet that we're throwing a huge party for him when he turns 10!  She just lit up hearing this.  We have a huge support system with our family, friends, vets, technicians and staff.
Hunter truly is loved by many!
This Saturday we are off to the North Woods of Wisconsin for some much needed R&R.  Hunter loves his time there and I'm sure a few days of fresh air, swimming, and fishing will do him a world of good!
Living life like a dog……
Give everyone you meet a warm welcome
Be loyal
Live life to the fullest
Go for a walk
Clean your plate
Breathe deeply
Take a nap whenever you like
Learn to get dirty
Shake it off
Good looks will get you anywhere