Jul 05 2012


labsrus
2nd Chemo treatment done….
Tripawds is a user-supported community. Thank you for your support!
Today Hunter had his 2nd chemotherapy treatment.  It went very well.  Time is just flying by now!
His blood work still looks good and he is a very happy, bouncy and strong dog.  I brought him into the clinic in his Super Dog costume, and the staff just loved it!  He's up 3 lbs. from his last visit one week ago.  Too many treats??  No, couldn't be that at all.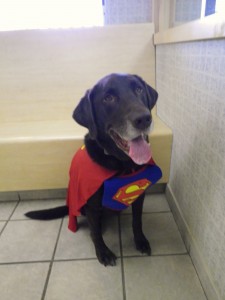 Hunter got his picture taken with Whitney, his oncology nurse.  He always searches her pockets for treats!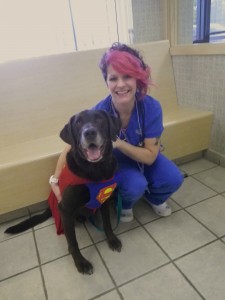 For some reason he is always thrilled to come into the clinic.  He is truly happy there.  But, he's always loved going to the vet.
The best news of the day was finding out that the 3 small pea-sized lumps we noticed recently on his lower chest were lipomas and nothing to worry about.  Whew!  Now we are working on a plan for his supplements to keep his immune system strong.   He's been on Milk Thistle and we will continue with that through his chemo treatments.  And with that he's been on an herb script for his immune system, but many clinic patients and fellow tripawds have had good luck with K9 Immunity Plus, so I ordered some today.
Now we get a 3 week "vacation" from the clinic until his next chemotherapy appointment on July 26th…. 1 day before Hunter's 9th Birthday.